....We were delighted to host and give a personal tour to the Dutch ambassador in Israel, Mr. Gilles Beschoor Plug, at the VIP opening of our exhibition 'I BELIEVE I AM GAY' during the 5th International Photography Festival Tel Aviv, 22/11-3/12 2017. IBIAG was one of the 3 main solo exhibitions to be shown at the photo festival.
We give thanks to the kind support of the Embassy of the Kingdom of the Netherlands in Israel and the Municipality of Amsterdam.
....I BELIEVE I AM GAY is going to be exhibited during The 5th International Photography festival Tel Aviv: Photo Is:rael. 22 November-3 December 2017.
....IN FULL FORCE was selected for FotoFestivalNaarden 2017, 20 May-18 June, the Netherlands. The theme of this year's festival; Right Here, Right Now. The series was chosen by NRC Dutch newspaper as one the 10 highlights of the festival. And featured as a 'must see' by 360Degrees Magazine.
....Photobook I BELIEVE I AM GAY was exhibited during Athens Photo Festival 2017 in the Benaki Museum in Athens 14 June-30 July.
....We had the honour to give an artist talk about our portrait series I BELIEVE I AM GAY, at the opening of Jerusalem Pride July 2017. Supported by the Dutch

Embassy and beautifully organized by Jerusalem Open House for Pride and Tolerance. It was a moving and inspiring night!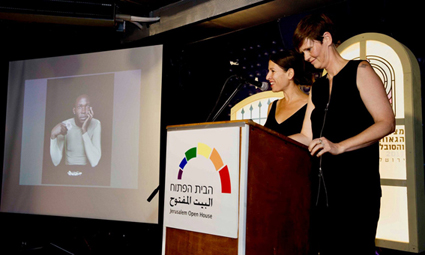 ....I BELIEVE I AM GAY was included in an inspiring discussion in a new book by Professor Richard Sandell (Professor of Museum Studies at the University of Leicester). In his book 'Museums, Moralities and Human Rights' Sandell argues that museums have a responsibility to create a world that respects human rights and in particular those of LGBT people. In chapter 6 he discusses among other exhibitions and projects also I BELIEVE I AM GAY. Sandell concludes his discussion in regard with the following words; "Projects such as this, I suggest hold considerable potential to enrich public debate and understanding surrounding LGBT equality, especially where the ways in which diverse people experience and express their gender and sexuality have tended to be ignored in media discourse that favours polarised arguments over complexity and nuance".
Museums, Moralities and Human Rights- Richard Sandell 2017. isbn: 9781138232013
....Our photobook I BELIEVE I AM GAY was selected for the INFOCUS juried exhibition of 'Best Self-Published Photobooks', at the Phoenix Art Museum, Arizona USA! The exhibition openend on 2/12/2016 and will be on view until april 2017.
....I BELIEVE I AM GAY at the invitation of the ministry of OCW (education, culture and science) was displayed in October 2016 at the governmental gallery at the ministry in the Hague. The show was opened by Minister Bussemaker.
....IN FULL FORCE published in daily newspaper Trouw with interviews by Jonathan Ploeg. 6th of august 2016; 'Canal Pride Amsterdam' day and final day of the Europride events in Amsterdam.
....LOVE ZONE published in daily newspaper Trouw, frontpage and supplement 'De Verdieping', 7 july 2016. Photography and text Hadas Itzkovitch and Anya van Lit.
....I BELIEVE I AM GAY was exhibited as a solo show at the Bijbels Museum in Amsterdam between 13 March -14 June 2015. Openend by Boris Dittrich, advocacy director LGBT Human Rights Watch.
With the kind support of the following funds: SVVS, Foundation for Democracy and Media, Prins Bernhard Culture Fund, Trut Fund, Blauwe Fund, Kerk in actie and Fotolab Amsterdam. With the special support of the Bijbels Museum Amsterdam. The exhibition was received with great attention from the media, press and audience alike, national and international. I BELIEVE I AM GAY was featured in newspapers like; Trouw, Parool and Le Monde
With a link to a reportage from Dutch TV channel NPO;